Electric Vehicle DPS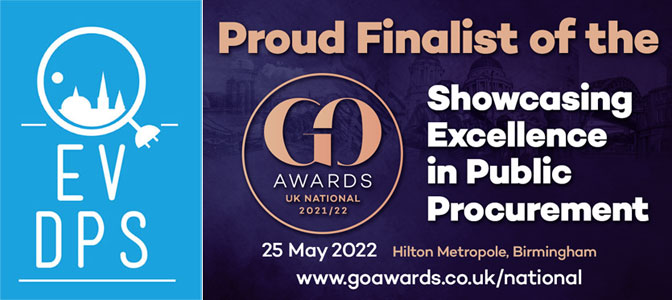 Oxford City Council has developed an award-winning, unique Dynamic Purchasing System (DPS) tailored for the fast-paced, innovative and ever growing world of electric vehicle infrastructure. This adaptive take on a procurement framework offers greater flexibility enabling access to nascent technology as well as the best business models. The DPS spans the entire breadth of electric vehicle (EV) implementation from turnkey services to consultancy and offers potential tender award times as quick as ten days.
The DPS is open to all public sector bodies.
What is the DPS?

The DPS is an electronic system which suppliers can join at any time to any number of distinct service lots, provided stringent quality and compliance criteria are met. An 'open market' solution, our DPS is designed to give buyers access to a pool of pre-qualified suppliers who have already signed up to a comprehensive set of contractual and technical Terms and Conditions, that are Local Electric Vehicle Infrastructure (LEVI) and On-street Residential Chargepoint Scheme (ORCS) ready.. This ensures the Further Competition process is less onerous to compile, with tender to award times as quick as ten days.
Unlike a traditional framework for the supply of goods, works or services where, once suppliers are accepted, the framework is fixed, the DPS offers flexibility to add/remove suppliers over the duration of the DPS lifetime. This enables access to nascent technology as suppliers ebb and flow within the market as well as the best business models.
Total number of suppliers and local authorities currently enrolled
Suppliers enrolled - 40
Local authorities enrolled - 50
Key Features
As a procurement tool, it has some aspects that are similar to a traditional framework agreement, but the key features are as follows:
Suppliers may join the DPS at any point during its validity if they satisfy the selection requirements and none of the grounds for exclusion apply
Contracting authorities must not impose any limit on the number of suppliers that may join a DPS
Existing suppliers can be removed due to poor performance
Suppliers may reapply, if previously not accepted, at any time during the term of the DPS.
Benefits
The benefits of using this DPS include:
Built using the past 4 years' of Go Ultra Low Oxford learnings;
Quality as well as regulatory and contractual compliance built in
Open to UK public sector organisations;
Pre-qualified suppliers are all compliant with Local Electric Vehicle Infrastructure (LEVI), On-street Residential Chargepoint Scheme (ORCS) and Office for Zero Emissions Vehicles (OZEV) standards.
All solutions are smart and interoperable - Local Electric Vehicle Infrastructure (LEVI) and On-street Residential Chargepoint Scheme (ORCS) ready.;
Set of pre-agreed contract terms so no expensive legal costs, business model agnostic;
Rapid 10 day procurement process possible, no Alcatel process needed, but best practice;
Numerous high quality suppliers already DPS members - both big and small;
Dynamic system means new suppliers can be on-boarded monthly so ensuring the latest technical solutions, business models and approaches are available;
DPS application process easy to use, new suppliers welcome;
Free for Public Sector to use, supplier pays a small percentage to use DPS but only when awarded a call off contract;
Consultancy lot is a wide ranging lot offering access to services such as EV strategy work, legal and EV, battery and green-tech subject specialists, as well as delivery personnel such as project management staff.
Lots
Visit our Lots page for details.
More information and apply
Contact Us
For any further queries please email dps@oxford.gov.uk.