Published: Thursday, 22nd July 2021

There are three key strategic consultations coming forwards this month that are of importance and relevance for all citizens and businesses in Oxfordshire. Members are asked to help promote these to ensure our citizens' voices are heard.

The Oxfordshire Plan 2050 is a strategic planning document that will sit over the top of all five Local Plans across the county. It sets out our longer term planning objectives countywide and carries statutory weight, such that individual Local Plans should be aligned to it. Government is engaging on the development of a vision, before it creates a Spatial Framework document for the Arc, which will also look to 2050 and take a regional view of longer term planning objectives. The Oxfordshire Plan 2050 will in turn need to align to the Arc Spatial Framework, which is expected to become Government policy. The Oxfordshire Infrastructure Strategy sets out how we aim to prioritise and deliver against the important infrastructure strand of the Oxfordshire Plan 2050. Therefore, all three of the consultation documents being issued this month are linked.
Oxfordshire Plan 2050
The Oxfordshire Plan 2050 is a statutory long-term plan that will set the overarching planning framework for the county up to 2050. The consultation, which is planned for 30 July subject to Cabinet approval by Oxfordshire councils, is the second public consultation and seeks the public's view on policies and options that:
Address climate change
Improve our local environment
Create strong and healthy communities
Plan for sustainable travel and connectivity
Create jobs, investment and provide homes
It also seeks views on how best to distribute sustainable development in an inclusive way to most benefit the county as a whole and improve lives.
The Plan will not replace Local Plans. Instead it will sit above the Local Plans that have either been adopted or are emerging, and then look beyond their timeframes up until 2050. When each district independently comes to review their Local Plan, they will then frame those new policies in the context of the jointly developed policies of the Oxfordshire Plan, but will still be subject to the local-decision making process.
In identifying the key areas where sustainable housing could occur and how best to deliver Oxfordshire's economic potential to 2050, the Oxfordshire Plan 2050 links with the Oxfordshire Infrastructure Strategy, which is establishing a strategic framework for future infrastructure priorities (see below).
Oxfordshire Infrastructure Strategy (OxIS)
The first document to be consulted on, from 16 July, will be the Oxfordshire Infrastructure Strategy Stage 1 Report, informally known as OxIS. This provides a strategic framework for Oxfordshire authorities to establish future infrastructure investment priorities alongside potential delivery and funding opportunities to 2040. Its aim is to set out the priority strategic infrastructure investment needed to support sustainable, clean, healthy and inclusive growth across Oxfordshire, and has been developed to take account of wider policy and strategic priorities, including those set out in the Oxfordshire Strategic Vision agreed by all partner authorities earlier in 2021.
The OxIS Stage 1 Report comprises a short summary report and a longer technical report, it seeks to:
Conduct a refresh of the evidence base and a re-prioritisation of strategic infrastructure schemes to 2040
Align with the current forecasts of District Local Plans, where possible
Embed a 'needs-based approach' to the multi-criteria appraisal aligned to the five OxIS Themes and 13 infrastructure types
Considers infrastructure schemes identified within existing strategy documents such as District Local Plans and Infrastructure Delivery Plans (IDPs)
Support, but not replicate District IDPs
Support and champion the Oxfordshire Local Industrial Strategy and Investment Plan
Establish a consensus, on strategic infrastructure schemes
Support opportunities to facilitate strategic funding
This report will be followed by the OxIS Stage 2 Report in 2022 that will consider new proposals for strategic infrastructure to meet Oxfordshire's need in the period to 2050. The OxIS Stage 2 Report will be aligned with the Oxfordshire Plan 2050, which is identifying the key areas where sustainable housing and employment growth can occur to 2050. The diagram below sets this out.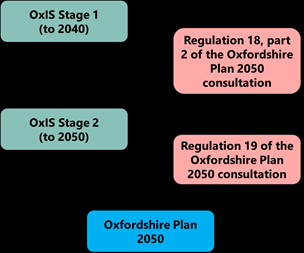 Oxford-Cambridge Arc Spatial Framework
The Arc Spatial Framework consultation is being led by MHCLG and is due to be launched w/b 19 July, lasting for 12 weeks. The document will look to develop a vision for the Oxford-Cambridge Arc area, focusing on four main themes:
Environment and Sustainability
Infrastructure and Connectivity
Placemaking
Economy
It will be the first round of Government public engagement to inform the creation of a vision that will anchor the policy for an Arc Spatial Framework. Information gathered will help to shape the policies and options in further consultation.
The final Arc Spatial Framework will:
Seek to identify priorities and set policies to protect and enhance the environment
Enable sustainable, transport‑led development
Identify and deliver strategic infrastructure priorities as development happens
Identify of the policies and investments needed to deliver the Arc's economic potential in a sustainable way, working with local partners to support a green recovery
The Framework will be an overarching document that will help inform the policies of the Oxfordshire Plan 2050, while the Plan will in turn identify the needs and priorities for the county and help ensure these are reflected in the ASF, such as our commitment to zero-carbon, enhancing our natural environment, sustainable development and infrastructure, and improving health and wellbeing.
Government is still finalising the FAQs document that will accompany this consultation.