Oxford's Zero Emission Zone
Oxford Zero Emission Zone Pilot
Oxford City Council and Oxfordshire County Council are set to introduce a Zero Emission Zone (ZEZ) in Oxford city centre in August 2021.
The plans were approved by both Oxford City Council and Oxfordshire County Council Cabinet's in March 2021.
The ZEZ Pilot would be based on a road user charging scheme and would cover the streets outlined in red below.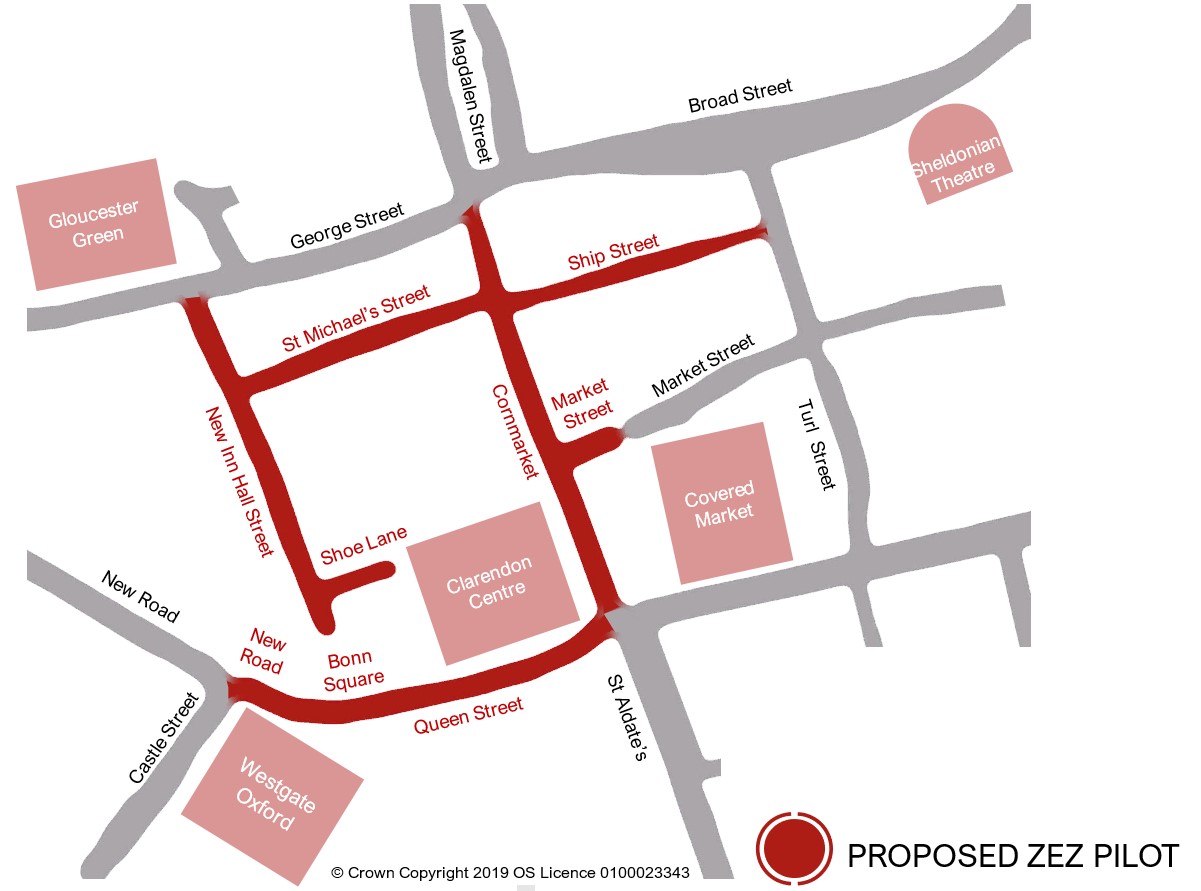 [Map of ZEZ Pilot which consists of Bonn Square, Queen Street, Cornmarket, part of Market Street, Ship Street, St Michael's Street, New Inn Hall Street, and Shoe Lane.]
The ZEZ will be implemented through a road user charging scheme.
This means vehicles used in the zone would be subject to charges, depending on their emissions. 
Only 100% zero emission vehicles would be able to be used in the zone free of charge.
Other vehicles would be permitted in the zone but would be charged from £2 to £10 per day (rising to between £4 and £20 per day from August 2025) to drive in the zone between 7am and 7pm.
There would be discounts and exemptions for some road users, including disabled motorists, residents and businesses in the zone.
The ZEZ will lead to cleaner air, quieter streets and contribute to the councils' action on climate change. The ZEZ is designed to reduce traffic volumes, encourage the uptake of zero emission vehicles and lead to other positive behavioural changes; all of these would reduce vehicle emissions and hence air pollution whilst maintaining access for those who need it.
Find out more about the ZEZ Pilot plans here.
November 2020 consultation
The Councils began a final consultation on the Red Zone in March 2020, but this was suspended due to the COVID-19 pandemic.    
Reflecting on the feedback from the January 2020 ZEZ consultation, the experience of COVID-19, and the feedback from the temporary city centre bus gates survey in the summer, the councils have made several changes to the ZEZ proposals and launched an updated final consultation on the ZEZ Pilot in November 2020.
A formal consultation on the ZEZ Pilot ran from 20 November 2020 to 17 January 2021.
Documents
The consultation documents provided details of the final proposals are below, along with a questionnaire.